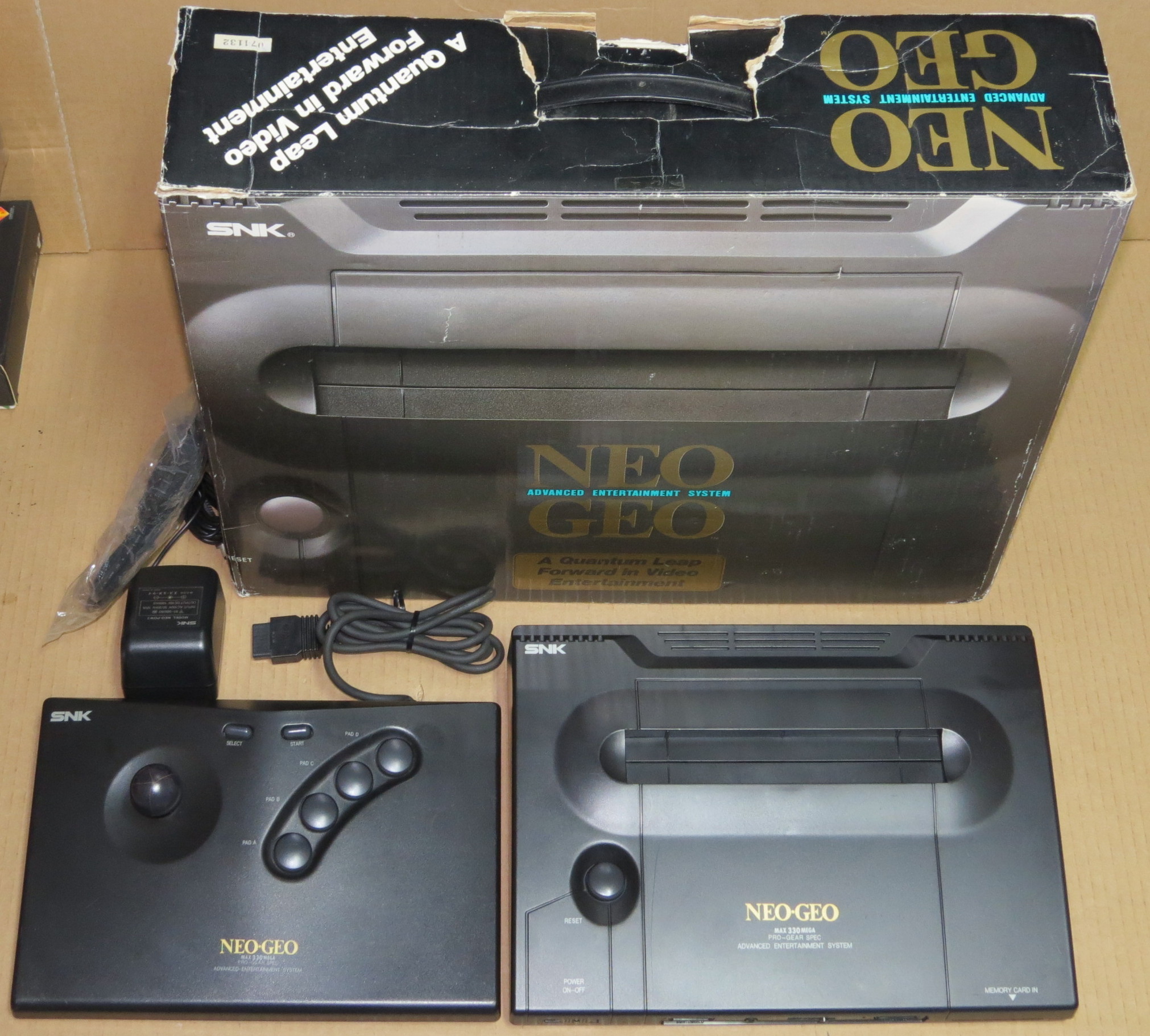 NOTE: This item will take an extra day to dispatch because it's in our new game store, which doesn't have facilities to pack it. It'll get transferred back to the mail-order department.

Boxed pure Japanese 60Hz Neo-Geo AES system with 1 original AES joystick, RGB SCART cable (wired for UK & Euro TVs) and a Japanese original SNK 100v power supply. Serial number 73472 (box has a different serial number). Console has an RGB bypass conversion to remove the dreaded vertical lines seen on most AES consoles. We've tried to capture the difference in picture quality in photographs... we don't think the 'before' photo looks as bad as it really did onscreen and we also don't think the 'after' photo looks anywhere near as good or as sharp in the photo as it does when you're looking at it yourself on the TV but I think you can see that the vertical lines are removed, which is the main thing. The console's PCB has been dusted/vacuumed (dust build-up can cause all sorts of problems!).

ACTUAL ITEM PICTURED. Note that the game shown on the TV is not included.

Note that we only ever crop our photos. We never enhance/retouch them!

Included power supply is 100v so you may need a step-down transformer (50W is fine). Alternatively, you can use a local-to-you Mega Drive 1, Mega CD 1/2 or Atari Jaguar PSU. You CANNOT use a PAL SNES power supply.

Note that the RGB SCART cable is brand new and has not been tested. If you'd like us to test it before shipping, let us know!

If you'd like add a second controller (official SNK joypad or AES or CD-type joystick), let us know. If we have one available, we'll try to accommodate you. We also have games available which we haven't yet listed online. If you want to add anything, we can combine shipping.